Repair for Historical Harms: Global Models for Questions of Reparations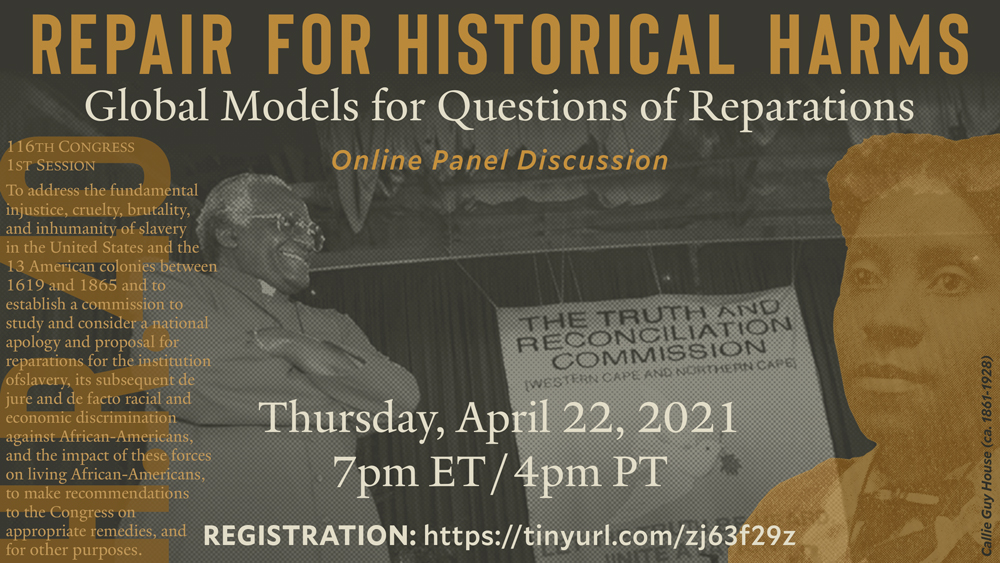 Event time:
Thursday, April 22, 2021 -

7:00pm

to

9:00pm
Event description:
In the past half century, a dozen or more nations, as well as numerous international organizations, companies, and universities, have considered or enacted programs of reparation for past wrongs, including for slavery in the Americas. Sometimes redress has been sought through juridical means, other times by material or financial repair, and still other approaches have been symbolic. In some contexts, individual victims have been compensated for proven harm in the past. Other contexts involving massive historical harm done over long periods of time have prompted widely varying approaches to redress. All efforts seek justice in a legal, moral, or political sense, and justice has widely differing definitions across time and cultures. This panel will address these issues historically and in our contemporary world, with attention to the issue of reparations to Black Americans.
Moderator: David W. Blight, Director of the Gilder Lehrman Center and Sterling Professor of History, Yale University
Panelists
· Pablo De Greiff (YC 1986), Senior Fellow and Director of the Transitional Justice Program at the Center for Human Rights and Global Justice of the School of Law, New York University
· Leslie Harris, Professor of History at Northwestern University
· Congresswoman Sheila Jackson Lee (YC 1972), 18th Congressional District of Texas
· Tom Steyer (YC 1979), Founder, NextGen America voter mobilization organization; 2020 Democratic presidential candidate; co-chair for Governor Newsom's 2020 Business and Jobs Recovery Task Force
Sponsored by:
Gilder Lehrman Center for the Study of Slavery, Resistance, and Abolition at the MacMillan Center at Yale University
Sheryl Carter (YC '82), Past National President and Chair of Yale Black Alumni Association
Ken Inadomi (YC '76), Chair of the Yale Alumni Nonprofit Association
Christopher Fields, Postdoctoral Research Fellow Yale School of Medicine, Dept. of Psychiatry
Co-sponsors:
· Afro-American Cultural Center at Yale
· The Amistad Committee, New Haven
· National Assembly of American Slavery Descendants - Los Angeles
· Yale Alumni Nonprofit Alliance (YANA)
· Yale Black Alumni Association (YBAA)
· Yale Latino Alumni Network (YLAN)
· Yale School of Medicine, Department of Psychiatry
"Global models for questions of reparations": a review of the panel discussion, written by Eva Knaggs, 2021 New Haven Promise Intern, Public Relations and Social Media, Beinecke Rare Book and Manuscript Library