Priscilla's Homecoming contd..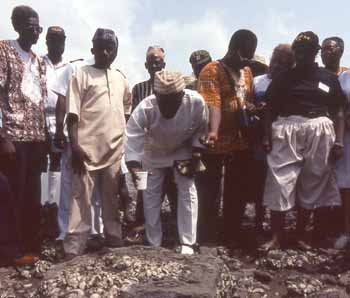 Gullah Homecoming party participating in a libation ceremony at Bunce Island, Sierra Leone (1989) Photo by Maggie Steber
In July, 2003 the Sierra Leone Government sent a letter of invitation to Thomalind Martin Polite asking her to make a homecoming to their nation:
There is every reason to believe that your ancestor, Priscilla, came from our country and that Sierra Leone is your ancestral home"[We] can assure you that your visit will be well publicized here" and that thousands of our people will be anxious to greet you, their long-lost family come home from South Carolina.
When Thomalind arrives in Sierra Leone in May, 2005, she will be following in the wake of two earlier "Gullah homecomings" to that country in recent years. The Gullah people are the African Americans who live in coastal South Carolina and Georgia today, the descendants of the rice-growing Africans brought from Sierra Leone and other parts of the Rice Coast. They live in rural settlements in the coastal "low country" and on the famous "sea islands" where they have preserved more of their African language and culture than any other black community in the US. Gullah speech and customs — and especially Gullah rice dishes — all still exhibit many discernible links to Sierra Leone.
Each homecoming has been more specific than the last, reflecting the increasing knowledge unearthed by scholars in recent years. The first "Gullah Homecoming" in 1989 involved Gullah leaders interested in their links to Sierra Leone, but with no known personal connection to that country. The "Moran Family Homecoming" in 1997, though, involved a family from coastal Georgia that has preserved a song in the Mende language of Sierra Leone, passing it down for 200 years. But "Priscilla's Homecoming" in 2005 will be the most specific yet. In this case, Thomalind Martin Polite not only knows her ancestor's name and the ship that took her to America, but the day it sailed from Sierra Leone (April 9th) and the day it arrived in South Carolina (June17, 1756).
Thomalind also knows her exact relationship to Priscilla: She is her great great great great great granddaughter.
In Sierra Leone, Thomalind will visit the ruins of Bunce Island, the British slave castle near Freetown. Henry Laurens, the slave dealer who sold Priscilla to Elias Ball, was Bunce Island's Charleston agent, which led Edward Ball to conclude that the Hare was coming from Bunce Island. But the Hare'srecently uncovered records show that while Captain Godfrey likely stopped at Bunce Island and may have purchased some slaves there, he bought most of the Hare's human cargo from traders based at the mouths of the many rivers that empty into the sea along the coast of Sierra Leone and Guinea.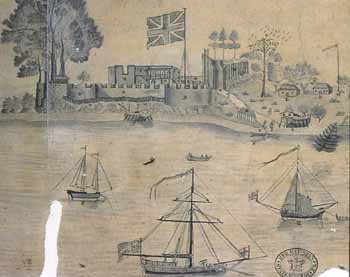 Drawing of Bunce Island, 1749 (detail)
Credit: The National Archives (UK)
Bunce Island was the biggest slave trading center in the Sierra Leone region, though, and chances are good that even if Priscilla was not sold there, the Hare anchored at the castle while she was imprisoned aboard the ship. Today, Bunce Island is an uninhabited island with an eerie, ghost town-like quality. Walking through the ruins Thomalind will see the "factory house" where the commander lived, the trading area where slaves were purchased, and the prison with its separate quarters for men on one side, and women and children on the other. She will also walk to the end of the jetty and stand at the exact spot where thousands of people set foot on African soil for the last time.
But there is also the joyous side of homecoming. News of Thomalind's visit began appearing in Sierra Leone newspapers in November — four months in advance — and a local radio personality predicts a "crowd sensation" when she arrives. Thomalind will have an audience with Sierra Leone's president, appear at a news conference held in her honor, and be hosted at a series of gala receptions featuring African music and dance and the country's many delicious rice dishes. The Freetown Players, Sierra Leone's most popular music group, will welcome her with a ballad called "Priscilla's Song," and a local dramatist will produce a play on Priscilla's life to be performed during the festivities. Thomalind will also travel upcountry to see a traditional rice farm much like those her ancestors made in South Carolina in the 1700s.