Priscilla's Homecoming

Priscilla's Homecoming
An African American woman from Charleston, South Carolina, will soon make an historic homecoming visit to the West African nation of Sierra Leone.
Mrs. Thomalind Martin Polite and her daughter Faith.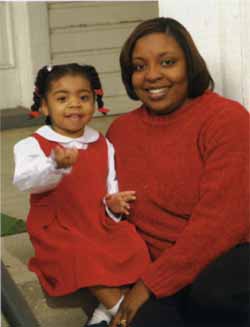 Photo by Rick McKee/charlestonphotographer.com
Mrs. Thomalind Martin Polite, a 31 year old speech therapist, has a unique story to tell. Thomalind is the 7th generation descendant of Priscilla, a 10 year old girl taken on the slave ship Hare from Sierra Leone to South Carolina in 1756. Very few African Americans can trace their family history for 250 years, but even fewer can identify a specific ancestor from Africa and know where in that vast continent he or she came from. Thomalind's homecoming is, thus, important for Sierra Leoneans who will be delighted to receive their long-lost kinsman from America and for black Americans who will share in her joy at finding her ancestral home in Africa.
Thomalind's journey to Africa in May, 2005 will be called "Priscilla's Homecoming" in honor of the little girl who survived the "Middle Passage" — the Hare's torturous voyage across the Atlantic — then endured another 55 years of slavery in America.