2019/2020
Click on each event link to access the video recording and photos for that program.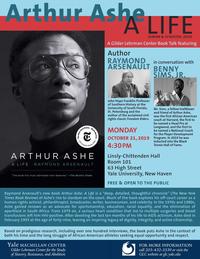 GLC Book Talk: Ray Arsenault, Arthur Ashe: A Life
Raymond Arsenault new book Arthur Ashe: A Life is a "deep, detailed, thoughtful chronicle" (The New York Times Book Review) of Ashe's rise to stardom on the court. Much of the book explores his off-court career as a human rights activist, philanthropist, broadcaster, writer, businessman, and celebrity. In the 1970s and 1980s, Ashe gained renown as an advocate for sportsmanship, education, racial equality, and the elimination of apartheid in South Africa. From 1979 on, he was forced to deal with a serious heart condition that led to multiple surgeries and blood transfusions, one of which left him HIV-positive. After devoting the last ten months of his life to AIDS activism, Ashe died in February 1993 at the age of forty-nine, leaving an inspiring legacy of dignity, integrity, and active citizenship.
Location: Linsly-Chittenden Hall (LC ), Rm 101,  63 High Street,  New Haven,  CT 06511
Monday, October 21, 2019 - 4:30pm to 6:30pm
---