Father Comes Home: A Civil War Odyssey
Thursday, March 29, 2018, 5:00pm-7:00pm Linsly-Chittenden Hall 102, 63 High Street, Yale University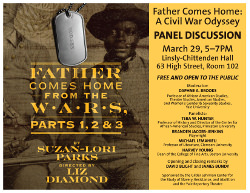 A Panel Discussion marking the Yale Repertory Theatre's production of Suzan-Lori Parks's Father Comes Home from the Wars (Parts 1, 2 & 3)
This public panel, which marks the Yale Repertory Theatre's production of Suzan-Lori Parks's Father Comes Home from the Wars (Parts 1, 2 & 3), will discuss the ways in which theatre seeks to make sense of the present condition by mining America's shifting conceptions of race and gender, its violent history of slavery, and its unfilled promises of freedom.
Moderated by Professor Daphne Brooks and bringing together historians, theatre studies scholars, and theater professionals, the panel will consider both Suzan-Lori Parks's play as well as broader questions involving the ways in which playwrights and historians have creatively engaged with America's past to better understand slavery, freedom, gender, and race.
---
Welcome and introduction: David W. Blight, Director of the Gilder Lehrman Center and
Class of 1954 Professor of American History, Yale University
Moderator: Daphne A. Brooks, Professor of African American Studies, Theater Studies, American Studies, and Women's, Gender & Sexuality Studies, Yale University
Panelists:
Tera W. Hunter, Professor of History and Director of the Center for African-American Studies, Princeton University.

Branden Jacobs-Henkins, playwright

Michael LeMahieu, Professor of Literature, Clemson University

Harvey Young, Dean of the College of Fine Arts, Boston University
---
Bios:
Daphne Brooks, Moderator
Daphne A. Brooks, a professor of African American Studies and Theatre Studies at Yale University, is the author of two books: Bodies in Dissent:  Spectacular Performances of Race and Freedom, 1850-1910 (Durham, NC: Duke UP), winner of The Errol Hill Award for Outstanding Scholarship on African American Performance from ASTR and Jeff Buckley's Grace (New York: Continuum, 2005).  Brooks is currently working on a new book entitled Subterranean Blues: Black Women Sound Modernity (Harvard University Press, forthcoming). 
Tera W. Hunter
Tera W. Hunter is a professor in the History Department and the Center for African-American Studies at Princeton University who specializes in African-American history and gender in the 19th and 20th centuries. Her research has focused on African American women and labor in the South during that period. Her first book, To 'Joy My Freedom: Southern Black Women's Lives and Labors After the Civil War, focuses on the experiences of working-class women, especially domestic workers, in Atlanta and other southern cities from Reconstruction through the 1920s. Michael Honey in his review in the American Historical Review called it a "triumph of research, astute analysis, and engaging imagination that deserves to be widely read by students of African-American, labor, and women's studies and of American history."
Branden Jacobs-Henkins
Brandon Jacobs-Henkins is the winner of the 2014 Obie Award for his plays "An Octoroon" and "Appropriate." His play "War" debuted at Yale Rep in 2014. In February 2015 Brandon spoke on "Slavery, Freedom, and Performance" at an event sponsored by Yale's Program in Theatre Studies. He was named a MacArthur Fellow for 2016. Jacobs-Jenkins currently serves on the board of the Soho Rep in New York City.
Michael LeMahieu
A former GLC fellow, Michael LeMahieu is an Associate Professor of Literature at Clemson University. Michael LeMahieu is the author of Fictions of Fact and Value: The Erasure of Logical Positivism in American Literature, 1945-1975 (Oxford University Press, 2013), reviewed in American Literature, College Literature, Textual Practice, The Year's Work in English Studies, and Twentieth-Century Literature. With Karen Zumhagen-Yekplé, LeMahieu co-edited Wittgenstein and Modernism (University of Chicago Press, 2017). He is currently writing a book on Civil War memory in U.S. literature from the civil rights movement to the contemporary moment. LeMahieu is coeditor of the journal Contemporary Literature. A former Gilder Lehrman Center fellow, Michael has published an article on "The Theater of Hustle and the Hustle of Theater: Play, Player, and Played in Suzan-Lori Parks's "Topdog/Underdog," African American Review Vol. 45, No. 1/2 (2012): 33-47.
Harvey Young
The Dean of Boston University's College of Fine Arts, Harvey Young received his BA from Yale University, his MA from the University at Buffalo (SUNY), and his PhD from Cornell University. Harvey Young's research on the performance and experience of race has been widely published in academic journals, profiled in the New Yorker, the Wall Street Journal and the Chronicle of Higher Education. He has published seven books, including Embodying Black Experience, winner of "Book of the Year" awards from the National Communication Association and the American Society for Theatre Research and, most recently, Black Theater is Black Life: An Oral History of Chicago Theater (coauthored with Mecca Zabriskie). He is president of the Association for Theatre in Higher Education and has served as Trustee/Board Member of the African American Arts Alliance of Chicago, American Society for Theatre Research, Northlight Theatre and Yale Club of Chicago.
---
Sponsored by the Gilder Lehrman Center for the Study of Slavery, Resistance, and Abolition, at the MacMillan Center and the Yale Repertory Theatre
---
Video of the event: