American Anti-Slavery Almanac, for 1839, pp. 13, 15.
Abolitionists of the 1830s opposed slavery for moral reasons and called for the immediate end to the institution; however, they believed that immediate abolition could be achieved through moral suasion, persuading the citizens of the United States, North and South, of the righteousness of their cause. Less a political campaign than a public relations initiative, pamphlets such the American Anti-Slavery Almanac, for 1839 helped to spread the word. By 1839, the story of Prudence Crandall had become one of many outrages that the abolitionist press would tell and retell to a growing audience of readers. As Garrison had said in his 1831 Address, Delivered Before the Free People of Color:
The press is the citadel of liberty–the palladium of a free people. Multiply periodicals among yourselves, to be conducted by men of your own color. The cause of emancipation demands at least a hundred presses.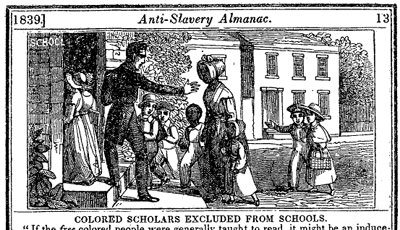 View the image:
Anti-Slavery Almanac, pg. 13
American Anti-Slavery Society, American Anti-Slavery Almanac, for 1839 
New York: S. W. Benedict, 1839, page 13 
Samuel J. May Anti-Slavery Collection
Division of Rare and Manuscript Collections, Cornell University Library 
http://dlxs.library.cornell.edu/m/mayantislavery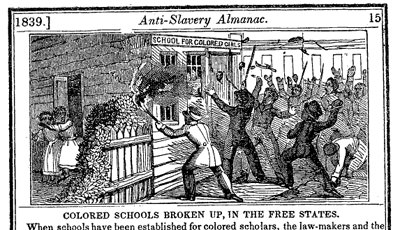 View the image: Anti-Slavery Almanac, pg. 15                                                                          
American Anti-Slavery Society, American Anti-Slavery Almanac, for 1839 
New York: S. W. Benedict, 1839, page 15 
Samuel J. May Anti-Slavery Collection
Division of Rare and Manuscript Collections, Cornell University Library 
http://dlxs.library.cornell.edu/m/mayantislavery