Address Delivered Before the Free People of Color, in June, 1831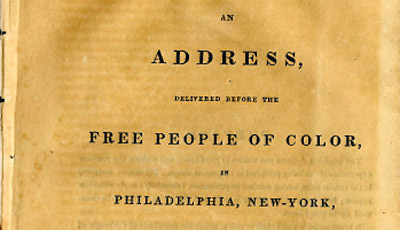 William Lloyd Garrison, An Address, Delivered Before the Free People of Color, in Philadelphia, New-York, and Other Cities, During the Month of June, 1831
Boston: Stephen Foster, 1831
Unlike abolitionists of previous decades, William Lloyd Garrison saw the free African-American communities of the North as equal allies in the struggle against slavery, and often spoke to black congregations. He was outspoken in seeing the condition of free people of color as a part of the abolitionist mission to end slavery:
I cannot be happy when I look at the burdens under which free people of color labor,–fettered by unjust laws, driven beyond the pale of society, shut out from the path of preferment, cramped in the pursuits of industry. As a white citizen, I am as tall as any man in the nation; my rights are amply secured; I lack nothing. Yet, I repeat, if there be a colored man who feels happy on the Fourth of July, he feels what I cannot.
In his address Garrison launches an uncompromising attack on the American Colonization Society and, claiming education as key to advancement, he details the new, interracial movement to establish a college for colored youth in New Haven, Connecticut.