Announcing the Argiro Fellowship in the Study of Modern Slavery, 2022-2023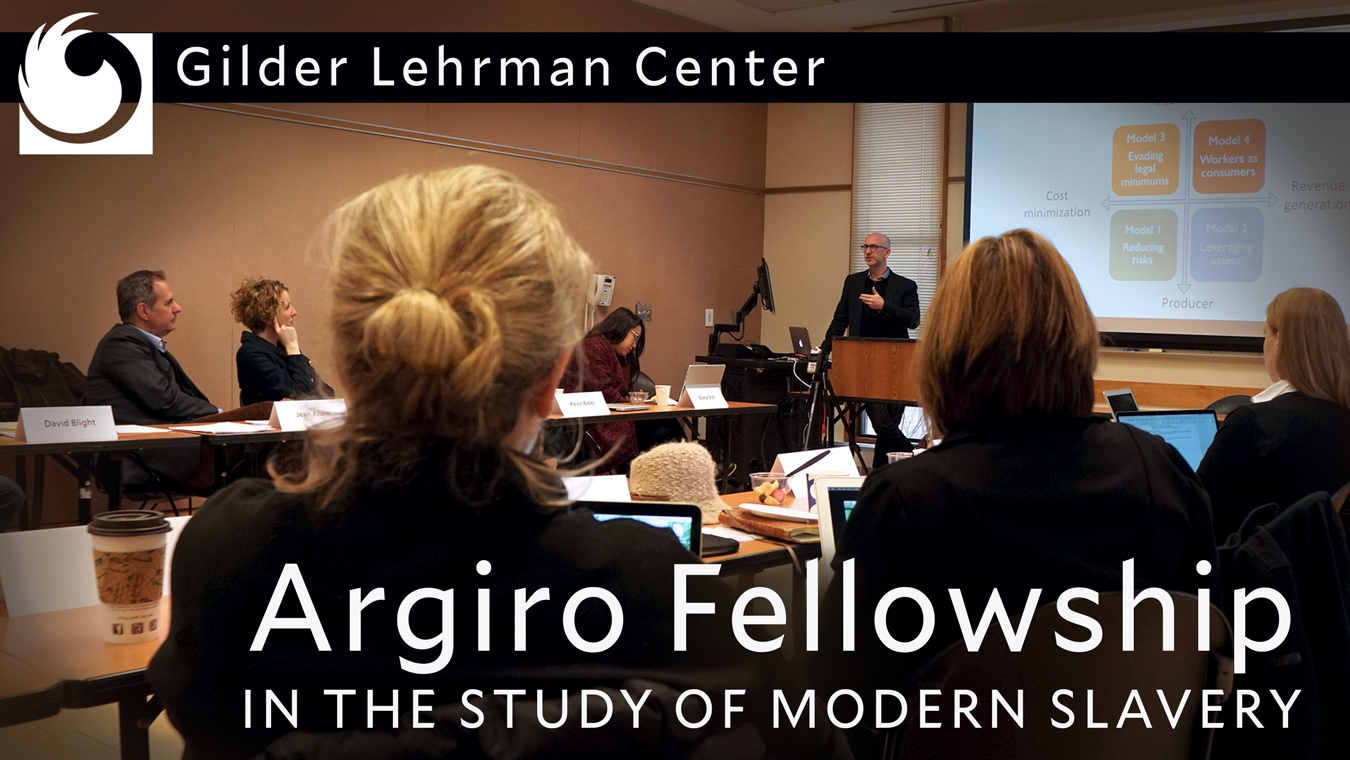 The Gilder Lehrman Center for the Study of Slavery, Resistance, and Abolition (GLC), part of the MacMillan Center for International and Area Studies at Yale University, invites applications for the inaugural Argiro Fellowship in the Study of Modern Slavery. The GLC seeks to promote a better understanding of all aspects of the institution of slavery from the earliest times to the present. Argiro Fellows may study the global history of racism, slavery, and abolition, with an emphasis on its modern-day forms, impact, and eradication and recovery efforts. Scholars from all disciplines, both traditional academics as well as writers, researchers, and artists without academic institutional affiliation, are encouraged to apply. This new fellowship is sponsored by a generous gift from Vincent Argiro, Yale, '77, modern antislavery activist and entrepreneur.
Fellowship Requirements
Applicants MUST have received the Ph.D. prior to the beginning of their appointment, or possess equivalent experiences. Both established and younger scholars are invited to apply. This is a residential fellowship and Fellows are expected to spend the majority of their time in residence at Yale, from August 2022 through May 2023. The residency requirement is contingent on current public health policies implemented by Yale University, the State of Connecticut, and the Fellow's home institution. In addition to working on their own research project, the Fellow is expected to teach one course related to their research and hold related office hours for students. Ideally, the Fellow also will complete a significant publication during their residency. The Fellow is expected to participate in the intellectual life of the GLC and the larger Yale community, and to acknowledge the support of the GLC and the MacMillan Center in publications and lectures that stem from research conducted during the fellowship term. The fellow is expected to offer one public presentation during their tenure at Yale and to record an audio interview for a podcast. The Fellow will engage in the GLC's modern slavery initiative in all ways suitable to their scholarly and public interests.
Stipend and Resource Information
The successful fellow will receive an academic year salary of $65,000 plus fringe benefits. Gilder Lehrman Center Fellows have full access to the Yale University libraries and email. Fellows can expect shared office space, computer access, and basic office supplies.
Application Information
To apply for the Argiro Fellowship in the Study of Modern Slavery, visit: http://apply.interfolio.com/101804
Do not mail application materials directly to the Center.
You are required to submit the following materials via Interfolio:
•      Cover Letter
•      Curriculum Vitae (CV)
•      Two letters of recommendation
•      Three to five page statement regarding intended research project (research statement), including indication of specific Yale resources you intend to consult
•      Proposed title, brief description, and department for the class you intend to teach
Highest priority is given to applications that are fully complete by April 1, 2022.
For additional information, please contact:
Gilder Lehrman Center for the Study of Slavery, Resistance, and Abolition
The MacMillan Center at Yale University
PO Box 208206  
New Haven, CT 06520-8206
Phone: 203-432-3339   
Email: gilder.lehrman.center@yale.edu
Website: glc.yale.edu/Fellowships