O'Connell, Daniel (1775-1847)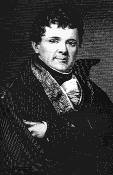 Called the "Liberator of Ireland" and at times the "Uncrowned King of Ireland," O'Connell was instrumental in gaining political rights for Irish Catholics from the British. He was elected to Parliament in 1828 even though, as a Catholic, he could not participate in its deliberations. He helped gain Catholic emancipation in 1829. Speaking in the U.S., he encouraged Irish Americans to join the abolition cause. In his final years his concern was the Great Famine which engulfed Ireland. He died during this famine.
Photo: The Peel Web
                                           .
---
O'Connell on the Web:
Daniel O'Connell—Victorian Web
Biography of O'Connell, "the Liberator." Links to historical events of in Ireland from 1820 to 1850.

Catholic Encyclopedia: O'CONNELL, DANIEL
Detailed biography of O'Connell the "Uncrowned King of Ireland."

Daniel O'Connell (1775-1847)
Recounts his life from the perspective of the county (Clare) that he represented.
Books about O'Connell:
Moley, Raymond. Daniel O'Connell, Nationalism Without Violence: An Essay. New York: Fordham Univ. Pr., 1974.

O'Connell, Mary, Erin Bishop (ed.), Daniel O'Connell. My Darling Danny: Letters from Mary O'Connell to her Son Daniel, 1830-1832. Cork: Cork Univ. Pr., 1999.

O'Connell, Maurice R. Daniel O'Connell: The Man and His Politics. Dublin: Irish Academic Pr., 1990.