Meany, George (1894-1980)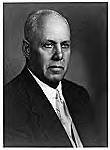 Meany was a labor leader who began his career as an apprentice plumber in New York City at the age of 16. Later, he became a union representative in the Plumber's Union. He steadily advanced through organized labor and in 1955 became president of the American Federation of Labor-Congress of Industrial Organizations (AFL-CIO). In this capacity he was a powerful and spokesperson for labor in the U.S.
Photo: Library of Congress
---
Meany on the Web:
Meany, George
A short biography of Meany.

Labor Hall of Fame: George Meany
Honored by the Labor Hall of Fame. Includes Meany photo with President Kennedy.

George Meany Center for Labor
Educational offerings at the Labor Institute named for Meany.
Books about Meany:
Goulden, Joseph. Meany. New York: Atheneum, 1972.

Robinson, Archie. George Meany and His Times: A Biography. New York: Simon & Schuster, 1981.