McCarthy, Joseph R. (1908-1957)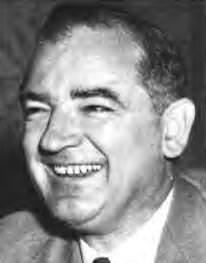 A grandson of an Irish immigrant, McCarthy became probably one of the most notorious Senators of his time. His base was Wisconsin where he received his law degree, became a Judge, and after serving in World War II, became one if its Senators. He was a leading anti-Communist figure and used questionable tactics to implicate a number of Americans. He eventually fell into disrepute after the Senate voted to censure him.
Photo: Spartacus Schoolnet
---
McCarthy on the Web:
Joseph McCarthy
A biographical piece covering his early public career, his military service in World War II and a detailed accounting of his Senate years with particular emphasis on his anti-Communist investigations. (Includes political cartoon).

Senator Joe McCarthy
Describes his youth, and his Senate career as it rose and then fell. Links to other McCarthy related material.

Welcome to Webcorp Multimedia!
Provides links to audio and visual clips of McCarthy.
Books about McCarthy:
Reeves, Thomas C. The Life and Times of Joe McCarthy: A Biography. Madison: Madison Books, 1997.

Schrecker, Ellen. Many Are the Crimes: McCarthyism in America. Boston: Little Brown & Company, 1998.
Additional McCarthy Materials:
A&E Biography Series — Senator Joseph McCarthy, An American Inquisitor.

The History Channel: 20th Century with Mike Wallace Series: Epic of Fear.