Louis (Barrow), Joe (1914-1981)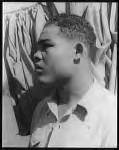 The son of an Alabama cotton picker, Joe was born Joe Louis Barrow. He grew up in poverty in Detroit. He was the world heavyweight boxing champion from 1937 to 1948, a period longer than any other man in history. During that time, known as the "Brown Bomber," he defended his title 25 times scoring 20 knockouts. Also while champ, he served in the Army during World War II.
Photo: Library of Congress (Courtesy of World Book)
                                                        .
---
Louis on the Web:
Joe Louis Official Web Site
A brief biography plus several photos of the boxer.

Rearview Mirror: the Brown Bomber
A story of Louis from his hometown newspaper, The Detroit Press. Contains a number of photos, in and out of the ring.

When Joe Louis fought, the country came to a halt
A biography with emphasis on his early years and his legendary bout in Yankee Stadium in 1938 with Max Schmeling which had political overtones.
Book about Louis:
Bak, Richard. Joe Louis: The Great Black Hope. Boulder: Da Capo Press, 1998
Additional Louis Materials:
Joe Louis — Boxing's Best
A video that captures the greatest moments in his career.