2014 Frederick Douglass Book Prize
Trinity College Professor Wins the Sixteenth Annual Frederick Douglass Book Prize
New Haven, Conn. — Christopher Hager, Associate Professor of English at Trinity College in Hartford, has been selected as the winner of the 2014 Frederick Douglass Book Prize for his book Word By Word: Emancipation and the Act of Writing (Harvard University Press). The Douglass Prize was created jointly by Yale University's Gilder Lehrman Center for the Study of Slavery, Resistance, and Abolition and the Gilder Lehrman Institute of American History. It is awarded annually by Yale's Gilder Lehrman Center for the best book written in English on slavery or abolition. The $25,000 prize was presented to Hager at a reception sponsored by the Gilder Lehrman Institute in New York City on January 29, 2015.
In addit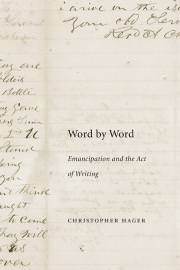 ion to Hager, the other finalists for the prize were Camillia Cowling for Conceiving Freedom: Women of Color, Gender, and the Abolition of Slavery in Havana and Rio de Janeiro (University of North Carolina Press), and Alan Taylor for The Internal Enemy: Slavery and War in Virginia, 1772–1832 (W. W. Norton).
This year's finalists were selected from a field of more than ninety books by a jury of scholars that included Fergus M. Bordewich (Jury Chair and author of America's Great Debate), Jeannine DeLombard (University of California, Santa Barbara), and Lisa Lindsay (University of North Carolina).The winners were selected by a review committee of representatives from the Gilder Lehrman Center, the Gilder Lehrman Institute of American History, and Yale University.
"Christopher Hager's Word by Word presents a profoundly original, illuminating approach to reading texts by and about enslaved African Americans," commented the jury. "In prose that is itself remarkable for its grace and clarity, Word by Word shows how texts written—and, often, revealingly, rewritten—for particular purposes articulate their enslaved authors' broader understandings of and investments in family, romantic love, selfhood, and politics. What emerge are the voices of highly individualized enslaved people as they negotiate intersecting networks of labor, power, and kinship."
The Frederick Douglass Book Prize was established in 1999 to stimulate scholarship in the field of slavery and abolition by honoring outstanding books on the subject. The award is named for Frederick Douglass (1818–1895), the slave who escaped bondage to emerge as one of the great American abolitionists, reformers, writers, and orators of the nineteenth century.