2013 Frederick Douglass Prize
Duke University Professor Wins the 15th Annual Frederick Douglass Book Prize
New Haven, Conn. — Sydney Nathans, Professor Emeritus of History at Duke University, has been selected as the winner of the 2013 Frederick Douglass Book Prize for his book To Free a Family: The Journey of Mary Walker (Harvard University Press). The Douglass Prize was created jointly by Yale University's Gilder Lehrman Center for the Study of Slavery, Resistance, and Abolition and the Gilder Lehrman Institute of American History. It is awarded annually by Yale's Gilder Lehrman Center for the best book written in English on slavery or abolition. The $25,000 prize was presented to Nathans at a reception sponsored by the Gilder Lehrman Institute in New York City on February 26, 2014.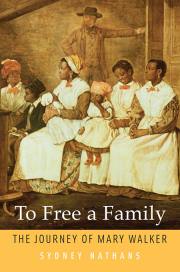 In addition to Nathans, the other finalists for the prize were Stephen Kantrowitz for More than Freedom: Fighting for Black Citizenship in a White Republic, 1829-1889 (The Penguin Press), and Brett Rushforth for Bonds of Alliance: Indigenous & Atlantic Slaveries in New France (University of North Carolina Press for the Omohundro Institute of Early American History and Culture).
This year's finalists were selected from a field of nearly one hundred entries by a jury of scholars that included Gregory Downs, Chair (CUNY), Graham Hodges (Colgate University), and Stephanie Smallwood (University of Washington). The winners were selected by a review committee of representatives from the Gilder Lehrman Center, the Gilder Lehrman Institute of American History, and Yale University.
"Sydney Nathans provides an astonishing biography of an extraordinary but little-known woman," noted Downs, the 2013 Douglass Prize Jury Chair and Associate Professor of History at the City University of New York. "Based upon painstaking work in vast public and private archives, Nathans writes an almost unbearably sensitive exploration of Walker's persistent struggles to free her children." To Free a Family, Downs adds, "is a triumph of the historian's and the writer's craft, a work that proves the power of the humanistic imagination, and one of the finest biographies of a slave ever written."
The Frederick Douglass Book Prize was established in 1999 to stimulate scholarship in the field of slavery and abolition by honoring outstanding books on the subject. The award is named for Frederick Douglass (1818–1895), the slave who escaped bondage to emerge as one of the great American abolitionists, reformers, writers, and orators of the 19th century.