2011 Frederick Douglass Prize
University of Pennsylvania Professor Wins $25,000 Frederick Douglass Book Prize
New Haven, Conn. - Stephanie McCurry, Professor of History at the University of Pennsylvania, has been selected as the winner of the 2011 Frederick Douglass Book Prize for her book, Confederate Reckoning: Power and Politics in the Civil War South (Harvard University Press). The Douglass Prize is awarded annually by Yale University's Gilder Lehrman Center for the Study of Slavery, Resistance, and Abolition for the best book written in English on slavery or abolition. The $25,000 prize was presented to McCurry at a dinner sponsored by the Gilder Lehrman Institute of American History in New York City in February 2012.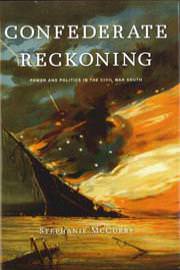 In addition to McCurry, the other finalists for the prize were Nicholas Draper for The Price of Emancipation: Slave-Ownership, Compensation, and British Society at the End of Slavery (Cambridge University Press) and Christina Snyder for Slavery in Indian Country: The Changing Face of Captivity in Early America (Harvard University Press).
This year's finalists were selected from a field of over ninety entries by a jury of scholars that included Edward Alpers (UCLA), Thavolia Glymph (Duke University), and Seth Rockman (Brown University). The winners were selected by a review committee of representatives from the Gilder Lehrman Center, the Gilder Lehrman Institute of American History, and Yale University.
"McCurry's Confederate Reckoning traces the rise and fall of 'a modern proslavery and antidemocratic state, dedicated to the proposition that all men were not created equal,'" noted Rockman, the 2011 Douglass Prize Jury Chair and Associate Professor of History at Brown University. "McCurry unravels the deadly consequences of the Confederate project to build a slaveholding nation. What previous scholars would have called the social history of the homefront, McCurry reconceptualizes as the political history of the Confederacy wherein 'unfranchised' white women and slaves drove events in ways never anticipated by the slaveholding regime's architects. McCurry deepens our understanding of the slaves' self-emancipation, while also clarifying the radical nature of the Confederate project. Deeply researched and rich in analytical and comparative insights, McCurry offers a dramatic account befitting this year's observance of the Civil War sesquicentennial."
The Frederick Douglass Book Prize was established in 1999 to stimulate scholarship in the field of slavery and abolition by honoring outstanding books. The award is named for Frederick Douglass (1818-1895), the slave who escaped bondage to emerge as one of the great American abolitionists, reformers, writers, and orators of the 19th century.