Fitzgerald, F. Scott (1896-1940)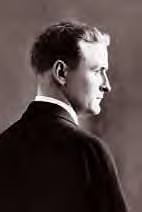 This grandson of Irish immigrants is ranked among the great American writers of the 20th century. He attended Princeton but left in 1917 to join the Army during World War I. He is most noted for his many novels and short stories that depicted life in the 1920s, the roaring '20s, the "jazz age." The Great Gatsby, probably his most noted work, was published in 1925. This decade of extravagance was also lived to the fullest by Fitzgerald and his wife Zelda. Alcoholism, debt and Zelda's insanity added to the chaos and unhappiness of their lives.
Photo: The American Irish by William V. Shannon
                                                     .
---
Fitzgerald on the Web:
American Storytellers: The Sensible Thing
Biographies of Fitzgerald and wife Zelda.

USC: F.Scott Fitzgerald Centenary
A very complete treatment of Fitzgerald including essays and articles, voice and film clips, bibliographies, a Fitzgerald history, and more.

F. Scott Fitzgerald Biography 
Biography with links to many other Fitzgerald sites.
Books about Fitzgerald:
Ring, Frances Kroll. Against the Current: As I Remember F. Scott Fitzgerald. Creative Arts Book Co.,1985.

Tate, Mary Jo and Matthew J. Bruccoli. F. Scott Fitzgerald A to Z. Checkmark Books, 1999.
Additional Fitzgerald Materials:
Video tapes:

Famous Authors Series, F. Scott Fitzgerald
F. Scott Fitzgerald (A & E Biography)