Jim Walvin

In this episode James Walvin, Professor of History Emeritus at the University of York, discusses how traces of slavery are often overlooked in the material culture we value, from porcelain sugar bowls to mahogany tables.
---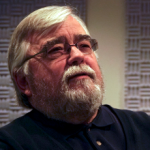 James Walvin is Professor in the History Department at the University of York, where he has taught since 1967. Born in Manchester, he graduated from the University of Keele, did graduate work at McMaster University, Canada, and took his doctorate at the University of York.
He has written widely on slave history and on British social history. His books include 'A Child's World: A Social History of English Childhood 1800-1914', 'English Urban Life 1776-1851;'and 'Black and White: The Negro and English Society 1555-1945', which was awarded the Martin Luther King Memorial Prize for 1974. He is also the author of 'Victorian Values', the companion book to the 1989 Granada Television series.