Digital Resources
The Gilder Lehrman Center for the Study of Slavery, Resistance, and Abolition is pleased to announce "Slavery and Its Legacies," a podcast series featuring visiting scholars, activists, and others about their contributions to the understanding of slavery past and present and its ongoing role in the development of the modern world. New episodes will be available every other Monday. This podcast series is made possible through a grant from the Robina Foundation, with the assistance of the Yale Broadcast Center. You can email comments and suggestions to gilder.lehrman.center@yale.edu with subject line "podcast".
"Slavery and Its Legacies" is available on iTunes University and SoundCloud
---

"Voices from the Archive" is a platform of digitized primary documents. The documents are from the Ulrich Bonnell Phillips Papers collection in Sterling Memerial Library's Manuscripts and Archives, at Yale University. U. B. Phillips (1877-1934), came to Yale in 1929 and taught there until his death in 1934. A student of Columbia University historian William A. Dunning, Phillips was part of the Dunning School, which sympathized with slavery and the plantation system and viewed radical Reconstruction as a failure.
---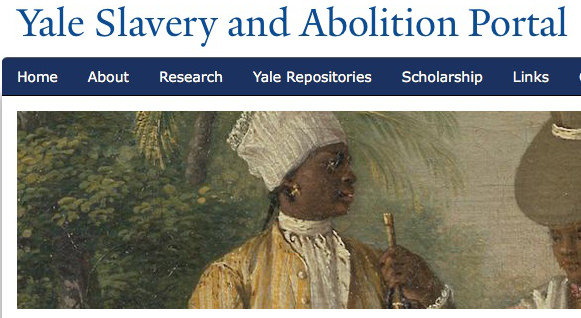 The Yale Slavery and Abolition Portal is designed to help researchers and students find primary sources related to slavery, abolition, and resistance within the university's many libraries and galleries. Select a repository from the list on the right to browse by location or use the search function to sort collections by topic. Consult the research and links pages for information about how to find additional source material.