GLC Panel Discussion: "400 Years: African Americans, 1619-2019"
Event time: 
Thursday, September 12, 2019 - 

5:30pm

 to 

7:30pm
Event description: 
Commemorating the 50th anniversary of African American Studies at Yale University
Co-sponsored by Yale University's Department of African American Studies; the Gilder Lehrman Center for the Study of Slavery, Resistance, and Abolition; the Afro-American Cultural Center; the Department of History; and the Center for the Study of Race, Indigeneity, and Transnational Migration
FREE AND OPEN TO THE PUBIC
Introductions: David W. Blight (Sterling Professor of History and Director of the Gilder Lehrman Center, Yale University)
Moderator: Edward Rugemer (Associate Professor of African American Studies and History, Yale University)
Panelists:
· James Horn (President of Jamestown Rediscovery Foundation and COO of Historic Jamestowne)
· Stephanie Smallwood (Associate Professor, Department of History, University of Washington)
· Brenda Stevenson (Professor and Nickoll Family Endowed Chair in History, UCLA)
The purchase of 20 Africans at Jamestown, Virginia during 1619 occurred weeks before the first meeting of the Virginia House of Assembly. The 400th anniversary of the simultaneous beginnings of slavery and democracy in British North America, and the continuing dilemma of democracy and race, provide a context to discuss the experiences of Africans brought here to labor under a brutal system of slavery. This panel examines the history and nature of this first landing of Africans in America, as well as legacies down to our own time. What was the meaning of liberty and community for 17th Century Americans? What does it mean to be American for their descendants and fellow minorities? What resonance do these issues have as the United States faces a Presidential election threatening to become the most racist appeal to voters in living memory?
Free parking is available (after 4:30pm) in Yale Lot No. 51, on Temple Street between Wall and Elm Streets, on the right.
Metered street parking also is available.
---
Event Media: 
Video:
https://www.youtube.com/embed/VyDLKTUxrtE
Photos:
 

www.flickr.com/photos/yaleglc/albums/72157711090330496
Article: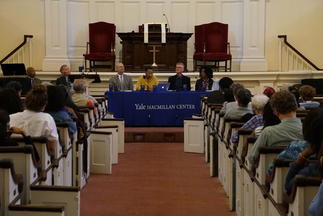 https://macmillan.yale.edu/news/commemorating-50th-anniversary-african-american-studies-yale-university