Legacies of Lynching: Artistic Confrontations of Racial Terror
Event time: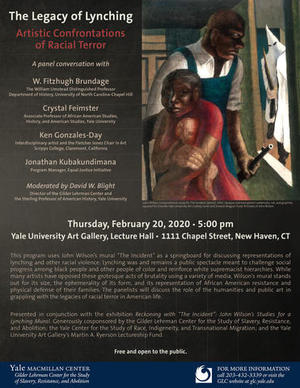 Thursday, February 20, 2020 - 

4:30pm

 to 

6:30pm
Event description: 
4:30pm Advance book sales
5:00—6:30pm Panel discussion, audience Q&A
6:30—7:00pm Book sales and signing
---
Co-sponsored by the Gilder Lehrman Center for the Study of Slavery, Resistance, and Abolition and the Yale University Art Gallery
Organized by the YUAG, the exhibition draws together nearly all of the known preparatory sketches and painted studies made by John Wilson for a powerful mural of a racial-terror lynching. Born in Massachusetts to immigrants from British Guiana, Wilson graduated in 1945 from the School of the Museum of Fine Arts in Boston, earned a B.S. from Tufts University in 1947, and studied in Paris with the sculptor and painter Fernand Léger. Awarded the John Hay Whitney Fellowship, Wilson studied in Mexico from 1950 through 1956. Inspired by the social activism of Mexican muralists, Wilson painted "The Incident" in 1952, during a course at La Esmerelda, the national school of art in Mexico City.
This panel discussion uses John Wilson's mural and the Yale University Art Gallery exhibition as a springboard for discussing representations of lynching and other racial violence, past and present. Lynching was and remains a public spectacle meant to challenge social and economic progress among black people and other people of color and reinforce white supremacist hierarchies. While many artists have opposed these grotesque acts of brutality using a variety of media, Wilson's mural stands out for its size, the ephemerality of its form, and its representation of African American resistance and physical defense of their families. The panelists will discuss the role of the humanities and public art in grappling with this horrible aspect of U.S. history. Aesthetically, historically, and legally, how can we understand and confront legacies of racial terror in American life?
Moderator: David W. Blight (Director, Gilder Lehrman Center; Sterling Professor of American History, Yale University)
Panelists:
· Fitzhugh Brundage (William Umstead Distinguished Professor, Department of History, University of North Carolina- Chapel Hill)
· Crystal Feimster (Associate Professor of African American Studies, History, and American Studies, Yale University)
· Ken Gonzales-Day (Fletcher Jones Chair in Art at Scripps College, Claremont, California)
· Jonathan Kubakundimana (Program Manager, Equal Justice Initiative)
---
Event Recording: