2019/2020
Click on each event link to access the video recording and photos for that program.
---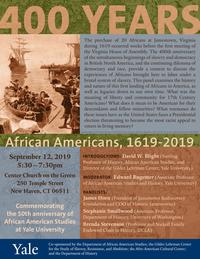 GLC Panel Discussion: "400 Years: African Americans, 1619-2019"
The purchase of 20 Africans at Jamestown, Virginia during 1619 occurred weeks before the first meeting of the Virginia House of Assembly. The 400th anniversary of the simultaneous beginnings of slavery and democracy in British North America, and the continuing dilemma of democracy and race, provide a context to discuss the experiences of Africans brought here to labor under a brutal system of slavery. This panel examines the history and nature of this first landing of Africans in America, as well as legacies down to our own time. What was the meaning of liberty and community for 17th Century Americans? What does it mean to be American for their descendants and fellow minorities? What resonance do these issues have as the United States faces a Presidential election threatening to become the most racist appeal to voters in living memory?
Co-sponsored by Yale University's Department of African American Studies; the Gilder Lehrman Center for the Study of Slavery, Resistance, and Abolition; the Afro-American Cultural Center; the Department of History; and the Center for the Study of Race, Indigeneity, and Transnational Migration
Location: Center Church on the Green, 250 Temple St, New Haven, CT 06511
Thursday, September 12, 2019 - 5:30pm to 7:30pm
---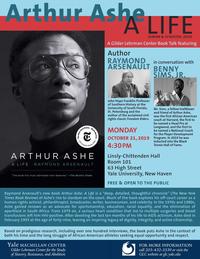 GLC Book Talk: Ray Arsenault, Arthur Ashe: A Life
Raymond Arsenault new book Arthur Ashe: A Life is a "deep, detailed, thoughtful chronicle" (The New York Times Book Review) of Ashe's rise to stardom on the court. Much of the book explores his off-court career as a human rights activist, philanthropist, broadcaster, writer, businessman, and celebrity. In the 1970s and 1980s, Ashe gained renown as an advocate for sportsmanship, education, racial equality, and the elimination of apartheid in South Africa. From 1979 on, he was forced to deal with a serious heart condition that led to multiple surgeries and blood transfusions, one of which left him HIV-positive. After devoting the last ten months of his life to AIDS activism, Ashe died in February 1993 at the age of forty-nine, leaving an inspiring legacy of dignity, integrity, and active citizenship.
Location: Linsly-Chittenden Hall (LC ), Rm 101,  63 High Street,  New Haven,  CT 06511
Monday, October 21, 2019 - 4:30pm to 6:30pm
---
THE FUGITIVE DIGITAL: a discussion, workshop, and film - Using Digital Scholarship on Slave Resistance for Teaching, Activism and Research

Organized by the Gilder Lehrman Center for the Study of Slavery, Resistance, and Abolition and the Yale Center for British Art, this panel and workshop is geared toward K–12 educators, students, activists, and faculty, and focuses on accessing digital primary sources on fugitives from slavery.
Roundtable participants:
- Edward Baptist, Professor of History at Cornell University, Project leader, Freedom on the Move
- Paul Gardullo, Supervisory Museum Curator and Director of the Center for the Study of Global Slavery at the National Museum of African American History and Culture
- Amalia Levi, Archivist in Barbados, founder of The HeritEdge Connection
- Marenka Thompson-Odlum, Research Assistant at Pitt Rivers Museum 
- Simon Newman, Professor of American History, University of Glasgow
- Christine Whyte, Lecturer in Global History, University of Glasgow
- Joe Yannielli, Lecturer in History, Aston University
- Zandra Yeaman, Glasgow Council for Racial Equality and Recognition, Virtual Museum of Slavery and Empire
Location: Sterling Memorial Library, 120 High Street New Haven,  CT 06511
Saturday, October 26, 2019 - 10:00am to 2:00pm
Register: here
---
GLC Panel Discussion: Legacies of Lynching
GLC Panel Discussion: Legacies of Lynching
Co-sponsorship with the Yale University Art Gallery, in conjunction with "Reckoning with 'The Incident' " exhibit
YUAG exhibit dates: January 17—May 10, 2020
Thursday, February 20, 2020 - 

4:30pm

 to 

6:30pm
---