2020 Annual Conference Schedule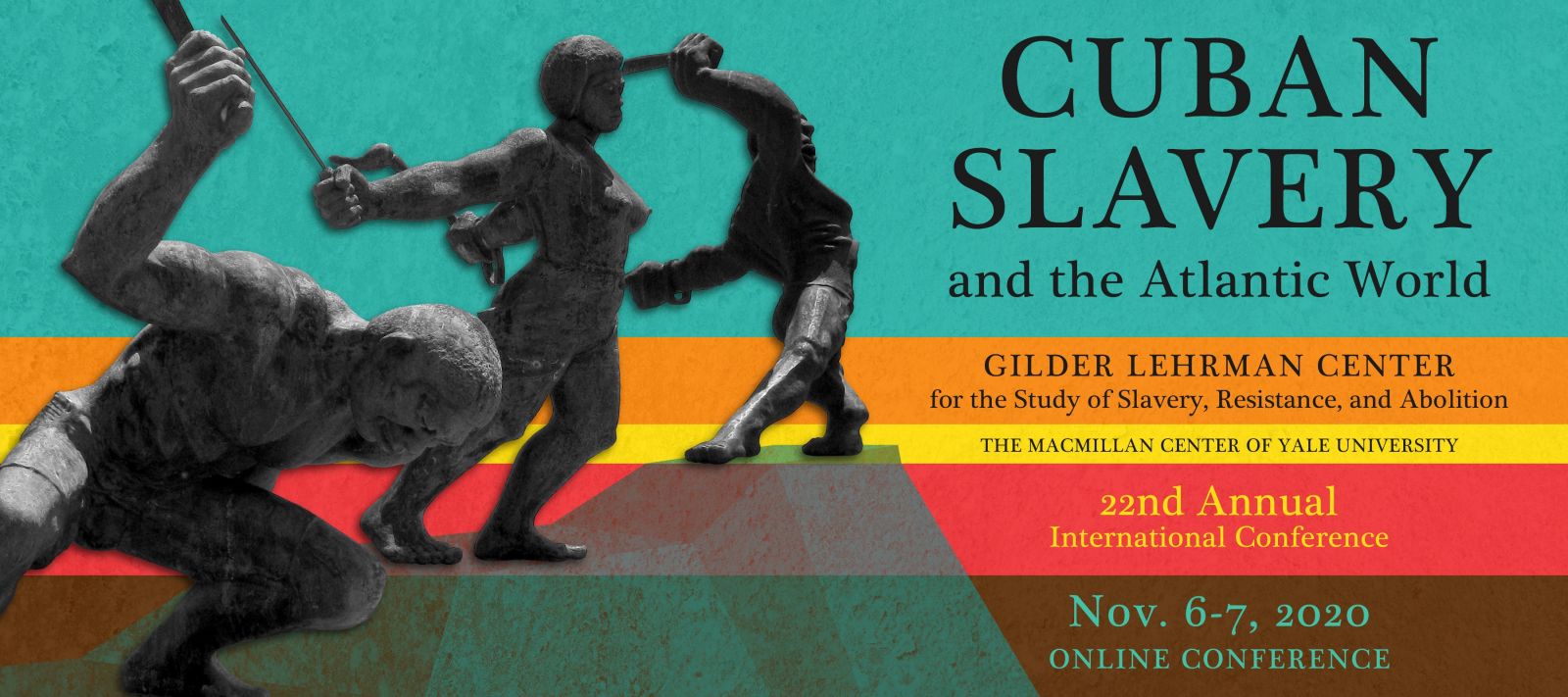 ---
Gilder Lehrman Center for the Study of Slavery, Resistance, and Abolition
The MacMillan Center of Yale University
22nd Annual Conference
Cuban Slavery and the Atlantic World
Nov. 6-7, 2020
ONLINE CONFERENCE
Register for this conference here: https://yale.zoom.us/webinar/register/WN_dWuHoUsNTt-cjxBrE3yYIg
---
FRIDAY, NOVEMBER 6, 2020 
9:30—10:00am WELCOME & INTRODUCTION:
David W. Blight (Director, Gilder Lehrman Center; Sterling Professor of History, of African American Studies, and of American Studies, Yale University)
Manuel Barcia (Chair of Global History, University of Leeds)
10:00—11:15am KEYNOTE ADDRESS & discussion:
Ada Ferrer (Julius Silver Professor of History and Latin American and Caribbean History, New York University) 
11:15—11:30am BREAK 
---
11:30am—1:00pm The Transatlantic Slave Trade and the Regional Trade 
This panel brings together scholars to discuss the new historiography of the Atlantic and intra-regional human trade, as our understanding of origins, ebbs, and flows, African political and military contexts, and intra-Caribbean subjugation and intercommunication grows ever deeper. Cuban slavery emerges as part of a tight nexus of regional plantation production and this interconnection also at times made fraught liberation possible. 
Moderator: David Blight 
Panelists 
John Harris (Assistant Professor of History, Erskine College): "Cuban slave traders' strategies in the final years of the transatlantic slave trade" 
Marial Iglesias (Visiting Research Scholar at the Afro-Latin American Research Institute Working Group on Comparative Slavery Leader, Harvard University): "New Reflections on the Illegal Slave Trade to Cuba." 
David Wheat (Associate Professor in the Department of History, Michigan State University): "A Wolof Aristocrat in Havana and a Slave Trader's Dying Wish, 1599" 
1:00—1:30pm LUNCH 
---
1:30—3:00pm Worlds beyond the Plantation 
Several decades of scholarship have brought plantation slavery into context with non- and plantation supporting-spaces in the Caribbean. This panel builds draws from that work in order to reconstruct a fuller account of subjugation, mobility, and the interrelation between labor systems in Cuba and its neighbors. 
Moderator: Anne Eller (Associate Professor in the Department of History, Yale University)
Panelists 
Adriana Chira (Assistant Professor in the Department of History, Emory College): "Black Local Governance on a Sugar Island: El Cobre during the Nineteenth Century" 
Aisha Finch (Associate Professor, Department of African American Studies and Department of Gender Studies, UCLA): "Fugitive Temporalities, Psychic Maroonage, and Sacred Borderlands: Black Cuban Worlds Beyond the Plantation." 
Michele Reid Vazquez (Associate Professor of Africana Studies, University of Pittsburgh): "Freedom, Mobility, and Urban Spaces in Nineteenth-Century Cuba" 
3:00—3:15pm BREAK 
---
3:15—4:45pm Representations of Cuban Slavery 
This interdisciplinary panel considers the spiritual and temporal worlds of representing Cuban slavery and how these narratives have evolved over time. Through visual art, literature, and spiritual epistemologies, the presenters will consider intersecting conversations about bondage on the island and beyond. 
Moderator: Cecile Fromont (Associate Professor of African and South Atlantic Art, Yale University) 
Panelists 
Jadele McPherson (Independent Artist, and PhD Student in Cultural Anthropology at CUNY Graduate Center): "Sonic Memories/Sacred Sounds in transnational Afro Cuban communities"
Odette Casamayor-Cisneros (Associate Professor of Romance Languages, University of Pennsylvania): "Epistemological Cimarronaje in Contemporary Black Cuban Cultural Production" 
Elio Rodriguez (Visual Artist): "Mami, que será lo que quiere el negro?"
SATURDAY, NOVEMBER 7, 2020 
9:30—11:00am Slavery, Freedom, and the Law 
This panel explores how enslaved and free people of color used the legal system to expand the tenor of their rights within a plantation society. What avenues for freedom did the law afford or foreclose and how did Afro-descendants redefine what was legally possible? How did the pursuit of freedom through the courts shape processes of race-formation? 
Moderator: Manuel Barcia 
Panelists 
Ariela Gross (John B. and Alice R. Sharp Professor of Law and History, USC) and Alejandro de la Fuente (Robert Woods Bliss Professor of Latin American History and Economics; Professor of African and African American Studies and of History; Director of Graduate Studies;Director, Afro-Latin American Research Institute, Hutchins Center for African and African American Research, Harvard University)- joint paper: "Becoming Free, Becoming Black: Race, Freedom, and Law in Cuba, Virginia, and Louisiana"
Rebecca Scott (Charles Gibson Distinguished University Professor of History and Professor of Law, University of Michigan): "Inventing a Root of Title to Property in a Person: Saint-Domingue Refugees in Santiago and Baracoa (1803-1809)"
David LaFevor (Associate Professor, University of Texas Arlington):  "Exile, Rendition, Forgery, and Kidnapping in Cuba and the United States: Bending the Laws to End the Slave Trade in the 1860s"
11:00—11:15am BREAK 
11:15am—12:45pm Cuban Emancipation and State-making 
This panel reflects on the far-reaching impact of Cuban emancipation on liberal democracy and political rights. How did experiences of emancipation shape ideologies and practices of citizenship? Panelists will discuss forms of popular mobilization for inclusive citizenship that emerged after emancipation and how they shaped state institutions. 
Moderator: Anne Eller 
Panelists 
Melina Pappademos (Associate Professor in the Department of History; Director of the Africana Studies Institute, University of Connecticut): "Black Activism at the Crossroad of the Republic." 
David Sartorius (Associate Professor in the Department of History, University of Maryland) 
Raquel Otheguy (Assistant Professor of History, Bronx Community College) 
12:45—2:00pm LUNCH
2:00—3:30pm Concluding Roundtable: Legacies and Memory of Slavery in Cuba and the Americas 
Cuba was the penultimate country in the Western Hemisphere to abolish slavery, and the last one to receive enslaved men, women and children from Africa, via the transatlantic slave trade. As a result, the legacies and memory of slavery and the slave trade are very much present in the island today, and also among the Cuban diaspora. This round table aims to explore these legacies and historical memory, while engaging with current processes and movements that are taking place, simultaneously, on both sides of the Atlantic. From the roles of statues and monuments as places of memorialisation and homage, to the suppression of some "inconvenient" parts of that legacy and memory, panelist will debate the current state of things in the island and the diaspora, and will attempt to look ahead, at the possible scenarios where these discussions are likely to lead. 
Moderator: David Blight (Yale) 
Panelists 
Manuel Barcia
Alejandro de la Fuente
Jane Landers
Rebecca Scott