Manuel Barcia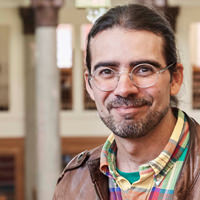 ---
Professor Manuel Barcia joins Thomas Thurston on this episode of Slavery and Its Legacies to discuss an episode covered in his current book project: The Pirates, the Judge, and the Amistad Trial: Or How the Panda Slavers May Have Determined the Fate of the Amistad Africans.
---
Manuel Barcia, a Professor of Latin American History at the University of Leeds, studied History at undergraduate level at the University of Havana. He then took a MA in Comparative History and a PhD in History at the University of Essex. After concluding his PhD he went on to teach at the universities of Essex and Nottingham before coming to Leeds in 2006. Manuel's research focuses on the history of slavery and the slave trade in the nineteenth-century Atlantic world. In 2014 he was awarded a prestigious Philip Leverhume Prize in History, given every year to researchers whose work has already attracted international recognition and whose future career is exceptionally promising. Manuel has been a non-resident fellow at the Hutchins Center's Afro-Latin American Institute (Harvard University) and a visiting fellow at the Gilder Lehrman Center for the Study of Slavery, Resistance, and Abolition (Yale University).
Professor Barcia is the author of West African Warfare in Bahia and Cuba: Soldier Slaves in the Atlantic World, 1807-1844 (Oxford and New York: Oxford University Press, 2014); The Great African Slave Revolt of 1825: Cuba and the Fight for Freedom in Matanzas (Baton Rouge: Louisiana State University Press, 2012); and Seeds of Insurrection: Domination and Slave Resistance on Cuban Plantations (Baton Rouge: Louisiana State University Press, 2008).
---
Prof. Barcia's Recommended Resources: 
---